Luxurious Seating: 36 reclining seats with Luxline upholstery for a Business Class comfort experience.
Modern Fleet: Coaches introduced in 2018, ensuring contemporary design and features.
EURO 6 Engine: Powered by a EURO 6 standard engine for improved efficiency and reduced emissions.
Optimal Length: 10.47 meters in length, striking a balance between spaciousness and maneuverability.
Advanced Amenities:
Ergonomic seats with maximum recline for enhanced comfort.
Footrests, folding tables, and raised central armrests.
Individual climate control and reading lights.
Television screen and refrigerator for onboard entertainment and refreshments.
Toilet facilities for passenger convenience.
Rear-view camera and GPS tracking for improved safety and navigation.
Active safety systems: ABS, ASR (Anti-Skid Regulation), EPS (Electronic Stability Program), Distance Control (ABA), Lane Keeping Assist, and Driver Alertness (SPA).
Electrical outlets and USB ports for charging devices.

Experience our thoughtfully curated amenities:
Indulge in a selection of exquisite sweets, dried fruit, and nuts mix, carefully chosen to satisfy your cravings.
Enjoy the refreshing touch of our Oshibori, individually wrapped cotton hand towels, providing a soothing sensation for your hands.
Stay hydrated with our complementary bottles of mineral water, ensuring your ultimate comfort throughout your journey.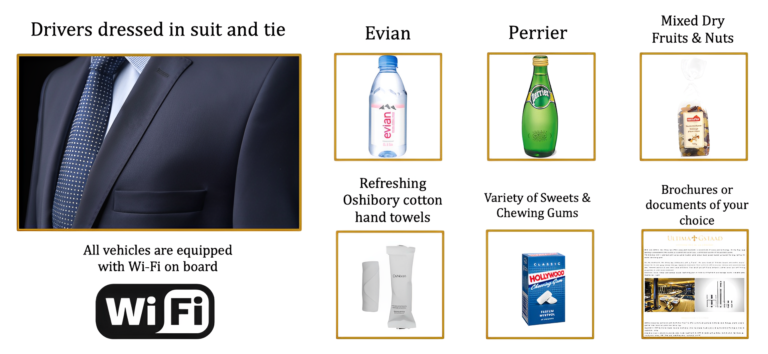 At our service, we strive to provide you with exceptional attention to detail and a touch of luxury. Sit back, relax, and immerse yourself in an unparalleled travel experience.