Exclusive Seating: Indulge in the ultimate comfort with the Range Rover Vogue, featuring luxurious beige leather seats.
Enhanced Performance: Experience exceptional handling and control with the 4Matic Model, equipped with advanced 4-wheel drive for optimal traction on various terrains.
Ample Storage Capacity: Enjoy the convenience of a spacious trunk in the XL Model, providing ample room for multiple suitcases, ensuring a seamless travel experience.
Distinctive Design: Stand out from the crowd with the AMG Model, showcasing unique bodywork and rims that exude elegance and style.
Specialized Convenience: Take advantage of the special option of a bottle holder with a capacity of 6 bottles, allowing you to enjoy refreshments during your journey.
Tailored for Your Needs: Accommodate up to 3 passengers comfortably, making it ideal for intimate gatherings or VIP transfers.
Effortless Travel: With the ability to accommodate 3 suitcases, the Range Rover Vogue ensures that you can bring along your essentials without compromising on style and luxury.
Experience our thoughtfully curated amenities:
Indulge in a selection of exquisite sweets, dried fruit, and nuts mix, carefully chosen to satisfy your cravings.
Enjoy the refreshing touch of our Oshibori, individually wrapped cotton hand towels, providing a soothing sensation for your hands.
Stay hydrated with our complementary bottles of mineral water, ensuring your ultimate comfort throughout your journey.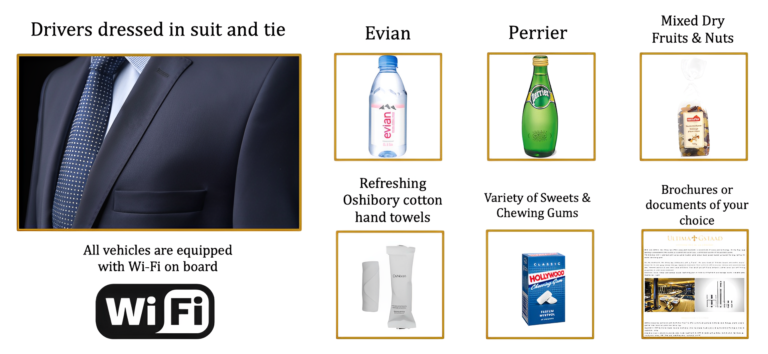 At our service, we strive to provide you with exceptional attention to detail and a touch of luxury. Sit back, relax, and immerse yourself in an unparalleled travel experience.